Fortune and Glory: The Indiana Jones Videogame Retrospective.
No high tech gear or magic tricks to be had here, all Henry 'Indiana' Jones Jr. has to work with are his wits, his whip and a good dollop of two-fisted-pulp-action-balls-hard-action-hero-machismo.
I won't waste time and precious space telling you about the films or even the comic books that inspired these games all I want to talk about are how well they play, how true they are to the Indy franchise and if they truly deserve fortune and glory…
---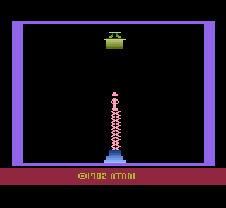 Raiders of the Lost Ark – 1982
First off we have a game famous for its obtuseness. It's a given that game graphics from the early 80's are more abstract than representational given the limited colour palette and extremely low resolution so you have to use your imagination when trying to decipher the different icons that appear every time you collect an item. There's your standard adventuring gear consisting of a revolver, whip, grenades, keys and shovel along with other different symbols like the ankh or chai and even a magic flute (long before Nintendo started putting them into its games).
The gameplay has you walking from one screen to another (or falling in a few cases) to collect the various items and using them to progress but with little to no clue as to where and when to use them it quickly becomes a grind of trail and error with you having to blow open particular walls or use symbols in specific places and then restarting when you've exhausted all your items. If it wasn't for the fact it's a licensed game I doubt anyone would have minded if Atari buried this right alongside ET.
Authenticity: 1
Gameplay: 1
---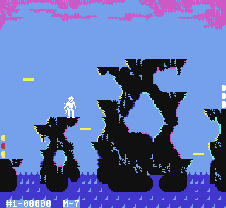 The Lost Kingdom – 1984
Next out is the first non-cannon Indy game with a mix of platform/puzzle adventure larks by Mindscape. After reading a lengthy into text telling you about Indy searching for an old friend in the jungle but stumbling across this uncharted castle that he begins to explore you get into the game proper and start from the castles entrance. You have a choice of six different rooms each containing a different challenge with three difficulties (although only the 'easy' difficulty can be played at first) some require you to just get from one side to the other or collect different treasures while others will have you playing simple switch or colour puzzles.
The different castle areas look nice with good use of colours for the slightly blocky graphics that make up the caves, cliffs and interiors you play through. Although it must be mentioned that the main Indy sprite looks slightly comical with his travel animation making him walk like an Egyptian and his whip could easily be confused for a walking stick, maybe they had a crystal ball and foresaw the mess the was the kingdom of the crystal skull?
Authenticity: 2
Gameplay: 2
---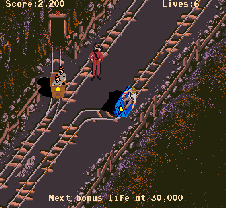 Temple of Doom – 1985
From a game that was released in the same year as 'Temple and had box art from the movie poster to the official game complete with impressive (for the time) voice clips and music. Atari still had the Indy licence and made this for the arcades, although it would get ported to pretty much every 8-bit home system eventually with the NES version being epically clunky. The game has three sections each with there own gameplay types. First is the platform action section that has you swinging around the Temple whipping thuggee guards to stun them, or kill them by exploding those ever handy explosive red barrels (videogame cliché no. 9 fact fans)
Once you rescue enough children you can make your escape through the mine tunnels and reinact the movies mine cart chase sequence by controlling Indy's cart and avoiding broken tracks and thuggee guards all out to derail you. The final level is set upon the rope bridge and you fighting back countless waves of thuggee guards before Mola Ram shows up where upon you can whip him off the bridge and complete the game… and then do it all over again but harder.
Yep it's one of those games that just keeps repeating over and over until you run out of credits or die of old age or possibly boredom. Atari score points for following the film so well but the mine cart and bridge sections are a real chore and just make you wish they'd just made the whole game like level one and maybe expanded it to include earlier areas like Club Obi Wan's or Pankot Palace.
Authenticity: 2
Gameplay: 4
---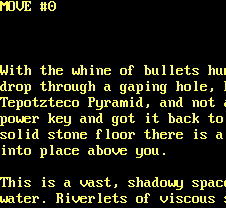 The Revenge of the Ancients – 1987
The more of these games I play the less likely it looks like anybody will be able to capture the raw thrill of watching an Indy movie with its globetrotting plots and heart stopping action maybe this entry from Angelsoft can succeed in emulating the Indy experience. So what is it… a text adventure… and frankly they should have mailed it to the Marx brothers.
Now for those of you to young to remember text adventures are often long, wordy puzzle games set in various locations that you can move about in and interact with by using simple commands like 'get key' 'go north' 'light fire' etc. This was fine for some franchises like The Hobbit where long wordy descriptions of your surroundings where just like the source material but for an Indy game it drains the anima out of the franchise and leaves it a withered husk of wasted potential despite all the possibilities of running around an Aztec temple filled with nazis and Marion Ravenwood for company. Add to this sections where split second timing a typo free commands and you've got a real dogs dinner of a game… and don't even get me started on the randomly appearing Nazis.
Authenticity: 1
Gameplay: 2
---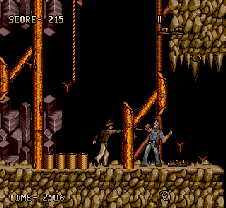 The Last Crusade: Action – 1990
Now you might think this game was good given that it was ported to a dozen different systems but it isn't. The NES version released in North America is a different proposition altogether being a fine mix on non-linear action and puzzle sections that let you tackle them out of sequence so you can ignore the cross of Coronado and get straight into the quest for the grail and later backtrack to missed locations and levels.
Anyway back to the crap the rest of us outside the US had to play… it does your basic platform/action dance with Indy having to get through four stages taken from the game: Utah caves, circus train, Castle Brunwald and the grail cave's whipping enemies, climbing ladders and jumping pits. Or at least he would if he didn't move and jump like his feet where covered in vaginal lubricant and climb like his arms where pipe cleaners. He regally falls off platforms despite being on them and takes half a dozen punches to floor a goon while he'll drop after a few of their attacks many of them ranged and often unavoidable.
There are a few nice touches like having to collect torches before your last one burns out and leaves you in near darkness but this is like admiring the paint job in a public toilet, its always going to be a shit house.
Gameplay: 2
Authenticity: 4
---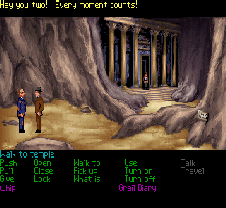 The Last Crusade: Adventure – 1990
From the disappointing action 'Crusade game to the one that's just plain SCUMM. Version 3 to be exact of the Script Creation Utility for Manic Mansion or just plain SCUMM to you, me, Aric Wilmunder and Ron Gilbert the guys who coded it. Often associated with the first game of its type Manic Mansion (hence the original utility name) through to the amazing Secret of Monkey Island games (we'll not so much after number two but that's a feature for another day) with this 'Atlantis and later versions like Full Throttle or Sam & Max.
At its core it's a better looking and more intuitive version of an old style text adventure game like Revenge of the Ancients but rather than using a text description of the 'room' you're in you have graphics and sprites showing you rather than text telling you. Items are shown in your inventory and are interacted with by selecting one of a dozen or so actions like 'pick up' 'push' 'pull' 'open' etc.
The game does a good job of following the film with you starting out in Barnet Collage and then picking up the films plot in Venice and the search for Henry senior and the grail. It plays well if a little clunky compared to later SCUMM games as it has a few too many interaction commands and requires you to reference the games manual for clues from time to time. Reading a recreation of Henry's grail dairy and then following the clues gives it a unique fell but playing it today can be hard given that the majority of players will be using ScummVM or some kind of emulator rather than the original and can spoil your experience.
Gameplay: 3
Authenticity: 4
---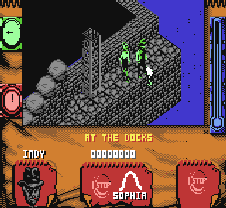 The Fate of Atlantis: Action – 1992
For those of us who didn't have a 16-bit computer in '92 the best we could manage for a Indy game was this a strange action/adventure hybrid viewed isometric like those classic Rareware games like Head Over Heals or Snake Rattle and Roll or even Ant Attack. The plot is taken from the Dark Horse comic series published in '91 and has Indy fighting Nazis looking for the ruins of Atlantis and the advanced technology hidden within.
Taking control of Indy you start off in Monte Carlo and have to fight and think your way though five different areas of Casino, Naval Base, Docks, Submarine, Islands and finally Atlantis itself. Indy is not alone thought as at any time you can switch to his ally Sophia Hapgood and by controlling both you can collect items, fight nazis and solve the very easy puzzles to progress to the next area. It might sound good but the controls pretty much ruin the game with you having to rotate your selected character before pushing forward to move them like a tank, whilst combat just comes down to holding the fire button and tapping down as fast as you can.
The best thing about the game is the impressive (for the time) introduction but once you've watched it move on to something better, like this…
Gameplay: 1
Authenticity: 3
---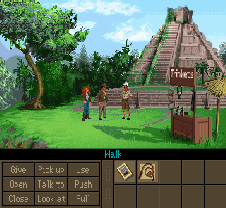 The Fate of Atlantis: Adventure – 1992
…the second of the two Indy SCUMM games but this one got all right and for me represents the high water mark of the SCUMM games before they started to lose their magic and before Lucasarts stopped caring about them so much and started to focus on milking Star Wars' teats until they where shrived purple nubs. It shares the same rough plot as the action game with Indy battling Nazis in pursuit of the ruins of Atlantis aided by his ex-girlfriend and Atlantis expert Sophia Hapgood. Without the constrictions of a movie to follow you could happily globetrot across numerous locations looking for clues and talking to characters in exotic locals such as The Azures, Iceland, New York, and Guatemala.
The wasn't just variety in locations but also in how the game was played with three different paths opened to you once you complete the Monte Carlo section. The first is the 'wits' path that emphasis puzzles and problem solving to get to Atlantis. The second, the 'fists' path let Indy go solo and reduced the number of puzzles but increased the frequency of the combat sections. Finally there is the 'team' path with Sophia playing a greater roll in the adventure and was often vial in progressing further through the adventure.
This helps increase the longevity of the game with three different paths to completion in the normally linear adventure genre and add to this multiple endings once you reach the climax in the Atlantean ruins and you've got almost the best Indy game yet… almost.
Gameplay: 5
Authenticity: 4
---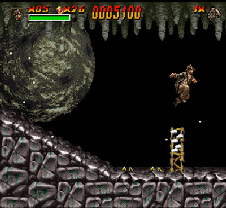 Greatest Adventures – 1994
Okay no messing here, THIS is the best Indy game ever made. Why? How about the fact that it's three games in one with each of the original trilogies storylines faithfully recreated even down to the numerous chase scenes in glorious Mode 7 and you should understand how much it pains me to say that given my almost dangerous love for the Megadrive.
Crafted by Factor 5 the same guys who did the console versions of Turrican (don't hold that against them) they made Indy light and easy to control with access to his whip, revolver and grenades once collected with all the whip swinging, goon punching trap dodging you'd want from an Indy game. Those chase scenes I mentioned all play brilliantly from bombing down the mountain side or across the mine tracks in 'Temple to shooting down Nazi planes in 'Crusade (although if you're using an emulator to play it you'd best turn the sound off unless you want to experience it as a slide show) each of the games twenty eight stages are all killer with even some unfairly hard early stages unable to stop you playing and easily transcends the lazy description of 'Super Star Wars without blasters' that it often gets tagged with.
Gameplay: 5
Authenticity: 5
---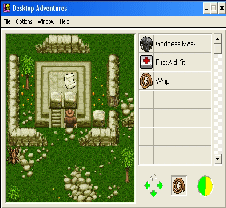 His Desktop Adventures – 1996
Now this is a bit of a curio being one of two desktop adventure games made by Lucasarts (the other was Yoda's desktop adventure a year later) and could be run in a small window with very little resources needed perfect for low end PCs or just sneaking a quick five minute go in between spreadsheets at work.
The other big selling point is that is was designed to randomise every time you load it mixing up the games map, item locations and enemies making every game unique albeit in a limited way with the same temples, jungles, and deserts appearing but jumbled up rather than laid out to a unique design. The game's cover art boasts of "literally billions of possible games" and whilst I'm sure that mathematically possible it just boils down to the same grind of pushing boulders and dodging scorpions to grab treasure.
Gameplay: 3
Authenticity: 3
---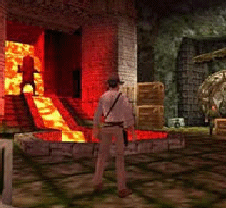 The Infernal Machine – 1999
Despite sharing the same name the two versions of 'Machine are very different. The first for the Game Boy Color is a ¾ angle viewed adventure game filled with simple logic puzzles seen a million times before such as pushing switched in a certain order or pushing blocks to reach different areas etc. you can collect items to be used and… zzzzzzzzzzzzz Poopytrim! Sorry, despite the use of the Indy licence this is one damn boring game maybe the PC/N64 version is better?
Nope, despite being in snazzy 3D it keeps the tedious block and switch puzzles and just slows things down more by adding blocky platforming action to the mix and has Indy handling just like Lara Croft did in the early Tomb Raider games i.e. an obese Sherman tank. The only thing exceptional about this version is the rarity of the N64 cartridge that was only released in North America through Blockbusters or the Lucasarts website and as such fetches a high price due to the limited number of copies. The graphics and pace where upped on the N64 version but all even that couldn't save from what is basically a very boring and flawed game.
Gameplay: 2
Authenticity: 3
---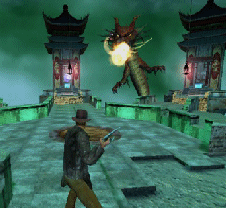 The Emperor's Tomb – 2003
Now this is how you do an Indy game in 3D. Fast paced with tons of whip cracking and two-fisted action set in exotic and more importantly exciting locations like Ceylon, Istanbul, Hong Kong and even the afterlife. While the plot once again features Indy's classic enemies the Nazis this time there's a strong Chinese influence with all manor of kung-fu fighters, demons and dragons added to the mix rather that just recycling and rehashing settings used in the films.
The controls, while far better than those in 'Machine are starting to show their age a little now and the inventory system fells counter intuitive but the foundations here are rock sold and once learnt will have you 'reading' the different platforms and ledges in no time and even let you bash enemies mid-swing or even better delivery the good old kick to the balls as you land in front of some hapless Nazi goon. This stands as the best 3D Indy game so far but compared to the latest Tomb Raider games or something like Prince of Persia still has some way to go before we get the definitive 3D Indy game to surpass the 2D Greatest Adventure.
Gameplay: 4
Authenticity: 4
---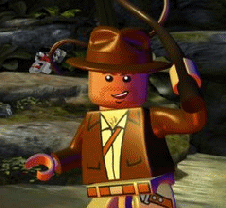 Lego Indy: The Original Adventures – 2008
For a full run down of this you can read the review HERE and it's rather damn good but is it the best Indy game made yet?
No, that honour falls to The Greatest Adventures on the SNES thanks to its great and varied gameplay slick visuals and epic longevity but with another Lego Indy game confirmed to be in the works and another different Indy action title also in development maybe we haven't seen the last of him yet…