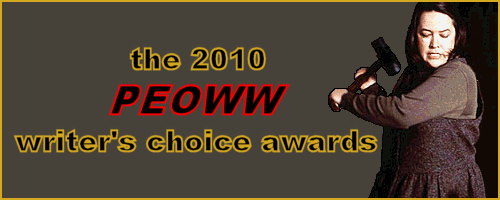 The 2010 Writer's Choice Awards
It's that time of year again where all the sites make lists of what sucked least in the previous twelve months.  As ever, we'll be running our regular awards feature with all the categories voted for by YOU personally and that's all fine and dandy but in the meantime we thought it'd be nice to let you know what the PEOWW crew picked as their games of 2010.  One game per PEOWW writer, the way God intended.

Alan Wake (Xbox 360)
For my money the best game of this year has to be Remedy's Alan Wake. In a marketplace filled with annual updates, soulless sequels and beige, cookie cutter franchises it stood head and shoulders above anything else not just in terms of storytelling and atmosphere but also for the sheer visceral thrills it has to offer. Sure it's not a game for everyone or every occasion but when it gets it hooks in you'll never feel the same way about moonlit forests or logging yards ever again.

Red Dead Redemption (Xbox 360)
Picking my game of the year was a bit of a struggle, this is down to not to playing that many games this year and a lot of those games not being anything special. The two games I actually played the most  this past year are Deadly Premonition and Red Dead Redemption. As much as I've wanked on about Deadly Premonition in my review and on the podcast my game of the year has to be Red Dead Redemption.
My reasons for picking this game is down to the fact the game has so much depth to it. This game is better than the overrated GTA 4, if only down to the fact that the big expanses of desert has a lot more life than the crowded Liberty City.  Not only do you have a massive single player experience, which kept me playing long after completing the main story, but you have a fun filled multiplayer component on top as well.

Demon's Souls (PS3)
An action RPG with hints of hack 'n' slash and Rogue-like, Demon's Souls is like nothing else you've played. Both punishing and rewarding, the innovative online multiplayer mode is the game's unique selling point. Seeing the ghosts of other players exploring the same areas as you gives a good sense of community, and the fact that other players can invade your game as a black phantom at pretty much any time adds to the feeling of constant dread and danger throughout.
The online multiplayer aspect of the game is enhanced by the ability to summon up to two other randomly chosen players of a similar level of your own to aid you, as well as being able to leave hints hints of deadly traps or ambushes. It's been a while since a game has hooked me as much as Demon's Souls did, It's easily amongst my favourite games of this generation.

Splinter Cell: Conviction (Xbox 360)
One could argue that the Splinter Cell games didn't do much evolving from the last last gen to the last game – certainly not a bad thing but Conviction had a lot of nay-sayers from the off.  At times the game felt a bit Arkham Asylum-y, certainly no bad thing. Enter a room, use skill, sneaking, gadgets and takedowns to make your way past or murder everyone in sight.
The Deniable Ops mode was a fantastic addition, allowing you to go it alone or with a buddy to play a shortened story mode or a series of challenge levels, clearing areas full of bad dudes and hoard variations. Plenty of fun and more DLC would certainly be welcomed.  Splinter Cell: Conviction had some great, good and downright ignorant reviews from people I question ever played the game but it was nothing but good time larks for me.

Pinball FX 2 (XBLA)
2010 wasn't a great year for full retail games and so it came down to a choice between Chime, Pac-Man: Celine Dion and Pinball FX 2.  To be honest you could flip a coin but if I absolutely had to give an answer, I'd say Pinball FX 2 edges it thanks to it being literally the most addictive game in years thanks to the excellent leaderboard action.
Sure, a couple of the tables are absolute bollocks but at 200M$P per table, and with more on the way, you're sure to find a few that you'll really get on with and for the first time that I can recall, this is a pinball game that actually takes advantage of its virtual setting making for some outlandish tables to play on.

Super Street Fighter IV (Xbox 360)
My favourite game of this year was probably Super Street Fighter IV even though it's basically an update to a game that was released last year. Out of all the games I have brought and played this year SSFIV is the only game I can see myself still playing with my friends in the next five to ten years much like Capcom's other classic fighting games like Capcom Vs SNK 2 and Marvel Vs Capcom 2 which I still dig out my PS2 for every once in awhile.

Super Meat Boy (XBLA)
Bayonetta started the year with a bang but it didn't hold my attention too long after completion. Mass Effect 2 disappointed the RPG fan in me despite it being an excellent game otherwise. Red Dead Redemption bored me after a while despite obviously being a quality product. I grew to love Alpha Protocol but it has too many issues. Super Meat Boy is nigh on perfect.
The charm, the music, the controls, the fiendish yet genius level design makes this the most addictive game I've played this year. The quality also shines through. Despite not boasting state of the art graphics every level has been crafted brilliantly and the controls are as reliable as you could ever need. The almost instantaneous respawns upon death just add to the one more go factor which make Super Meat Boy my personal game of the year.

Fallout: New Vegas (Xbox 360)
Fallout: New Vegas just hits all my sweet spots with great quests, interesting combat and new things to see every time I jump in. Since finishing the PEOWW review I've been back doing the various achievements that I didn't pick up the first time through added many hours to my already inflated playtime. Thing is I dont mind wandering around the Mojave Wastes doing bits and bobs. It doesn't feel like a grind and that for me is the sign of a classic game.

Chime (XBLA)
An initially confusing game where it's not immediately clear what to do, the in-game tutorial being as much use as a Peter Sutcliffe mask at a serial killer victim support group. However, once you figure out the mechanics of the game under your own steam, a delightful experience soon becomes reality. You could easily lose days to this game. All matched to a perfectly balanced set of achievements, some of which seem unattainable at first, by the time you've mastered the game you should be close to having them all, at the very least being well equipped to go after them. At 400MSP, there's really no excuse not to play this game if you have a Live connected 360.

Super Street Fighter IV (Xbox 360)
Street Fighter IV saw the return of the fantastic fighting series after several years of countless sequels and re-hashes of the same formula. it featured everything a Street Fighter fan could want out of a next gen reboot.
Super Street Fighter IV not only improved it, it brought it as close to perfection a game could possibly achieve.